Alluring View of Northern Lights…
15/05/2019
HospiBuz Desk
If you got the "Northern Lights" in your bucket list, then this Panorama Glass Lodge of Iceland deserves to be bookmarked. This place is undoubtedly the most perfect and peaceful place that you could ever be for enjoying the alluring views of the Northern Lights. This Panorama Glass Lode is located in Miðbúð 1, 276 Mosfellsbær, Iceland. Northern Lights also refers to Polar Lights, Southern Lights, An Aurora etc which is basically a natural light display in the Earth's sky which is mainly seen in the high altitude regions of the Earth. These lights are the result of disturbances in the magnetosphere of the Earth, which is caused by the solar winds. Watching these lights in the night sky are simply magical and worth watching. This place is the pure heaven for the nature lovers where they can enjoy such lights in the freezing night of Iceland.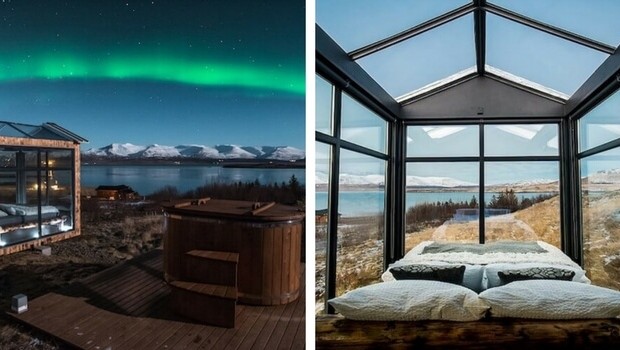 This Panorama Glass Lodge is set just next to the sea and world widely very popular for providing a damn luxurious and memorable stay to their guests as well. Of Course, the panoramic view of Northern Lights is the biggest lure here. From the Panorama Glass Lodge, you can enjoy the stunning Scandinavian sunsets in the freezing and refreshing sea and the very magical Northern Lights. Moreover, the glass cabin of the lodge has a very impressive and attractive outdoor hot water pools as well, where you can chill and enjoy such geographical phenomena's.
This Lodge is run by a family and it is purely built in the traditional Scandinavian style, which is a stunning piece of architecture. This was initially meant for the couples for honeymoon but it has created a soft corner in the hearts of nature and luxury lovers.
Comments
0