The Controversial Dish at PM's oath ceremony
31/05/2019
HospiBuz Desk
A Dinner hosted by President Ramnath Kovind after the PM's oath ceremony
The star of the evening was 'Dal Raisina' which came from the President's kitchen. This dish is stuck in controversy because Machindra Kasture says that it just takes 6 to 8 hours for this dish to get ready. On the other hand, Monty Saini claims that the dish takes complete 48 hours to get ready. The preparation of this dish started on Tuesday night itself and it was definitely the show stopper.
The current cook of the Rashtrapati Bhavan Monty Saini informed that it takes 48 hours for the Dal Raisina to get cooked.
This dish was introduced in the President's Kitchen by Machindra Kasture. She became the first chef of Rashtrapati Bhavan and was elected by former President Mrs Pratibha Patil.
The dinner had both vegetarian and non-vegetarian dishes for the dignitaries. The vegetarian menu had a range of delectables from samosas, rajbhog to lemon tart.
President Ramnath Kovind hosted a lavish dinner for the VVIP's on Thursday after PM Modi took the oath. The ceremony was conducted at Rashtrapati Bhavan and it was attended by around 8000 guests. A lite dinner was conducted for everyone but the special President's dinner was for about 40 guests.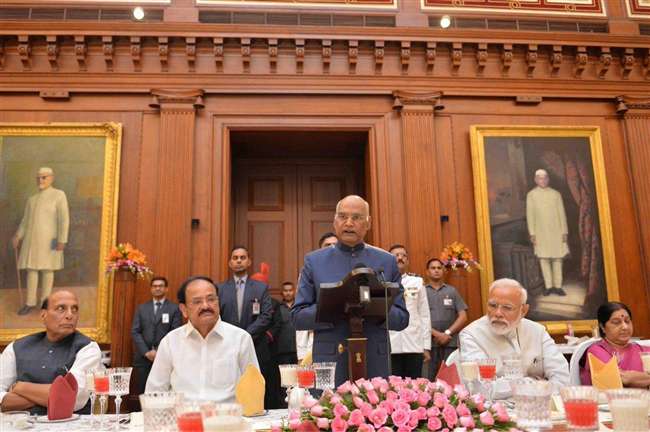 Comments
0